PRESS RELEASE
February 12, 2010 - Canadian International Auto Show, Toronto, Canada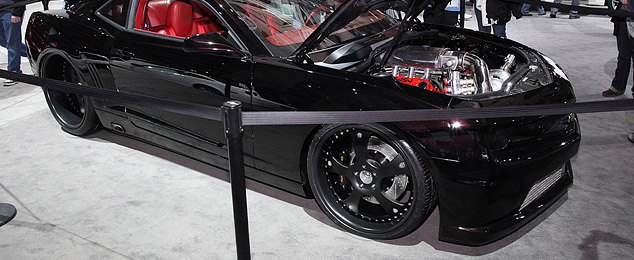 ETC Enterprises - Elite Tuners of Canada debuts their Top Tuner Chevrolet Camaro at the 2010 Canadian International Auto Show at the Metro Toronto Convention Center in Downtown Toronto, Ontario. This is Team ETC's fourth installment in cooperation with General Motors Canada.
For the fourth project car with General Motors, Team ETC turned a 2010 Chevrolet Camaro into modern day Pro Street style. The Top Tuner Camaro packs in a LSX 454ci engine, the first Canadian vehicle to use this motor. Once again Turbonetics has provided a turbo for the build, this time with a giant 91mm hybrid turbo. The turbo is connected to custom tubular exhaust manifolds with a pair of Turbonetics 45mm wastegates. In addition to the custom manifolds are custom 5" stainless steel downpipes that lead to custom 3" dual exhausts. Turbonetics also supplied the build with a pair of Duo 35mm blow-off valves. This gives the Camaro an estimated 1400 WHP and 900 LB-FT.
Serge Leger (owner) perfected the engine bay by tucking all the factory wires and relocating the fuse box, ignition coils, ABS unit, and air bag sensor. With so much more power than the stock Camaro, the chassis needed work as well. The Top Tuner Camaro has custom carbon fiber tub work and the factory rails were strengthened. The rear was completely redone and customized with Moser 9" rear end, multi-link suspension, QA1 coilovers, custom driveshaft, and Moser axles. Other engine modifications include Aeromotive A1000 pumps, Earl's SS lines, and Aeromotive FPR, eight 2150cc injectors, twin Spearco cores with custom end tanks, TCI custom built 4180e Transmission and stall converter, and custom pistons from JE Pistons.
The Top Tuner Camaro rolls on custom STRUT rims made of dry carbon fiber. STRUT 22x10" rims in the front and massive 24x15" in the rear. A typical 24" rim would weigh over 100 LB. But STRUT's custom carbon fiber piece uses a specially forged pro street rim, and in total weighs only 35 LB. Pirelli also made custom rubber to fit the rims as well. The front tire is a common 265/35R22 Pirelli P Zero, but the rear is a massive 405/24R24. To stop this monstrous power is a custom spec set of Baer 6-piston brakes gripping 2-piece rotors.
All the body work was modified to fit the mechanics, from the front bumper to the custom side exhaust skirts and custom diffuser in the rear bumper. The front grille was also replaced with a STRUT carbon fiber grille. A custom drag style spoiler wing was fabricated for this Camaro along with an integrated roll cage. Serge Leger finished the body work with an unique paint, PPG Nexa Black Cherry.
The entire interior along with custom seats was rewrapped with imported red Italian leather in baseball stitch pattern. In the dash are Auto Meter gauges showing fuel, boost, wideband and oil pressure. All the panels are custom, including headliner, door cards, rear quarter, and center console. Sparco supplied 5-point front harnesses and 4-point rear seat belts. Once again, Pioneer Electronics provided the build with multimedia components from their Premier series. An AVIC-Z110BT system was installed in the dash and includes navigation, Bluetooth and DVD. Pioneer also supplied the build with TS-PRSD2000SPL Premier mono amp, 12" shallow mount TS-SW1201S2 Premier sub, PRS-A900 4-channel Premier amp, and four TS-C720PRS 6.75" Premier components. An Apple Mac Mini is connected to the touch screen panel for WiFi, tuning control as well as back up camera.
Top Tuner Chevrolet Camaro
For more photos see the gallery