PRESS RELEASE
June 12, 2012

Top Tuner was selected as 1 of 3 teams to receive the all new 2013 Scion FR-S from Scion Canada. Representing Ontario, the Top Tuner team is now faced with an incredible nationwide all Canadian challenge. The challenge - to build the Scion FR-S to be able to to endure and compete in not 1; but 10 distinct motorsports events in the next 16 months. The Top Tuner team will be tasked to build the all new Scion FR-S in various stages and styles, to be fully functional for the track, but carry design elements that make sense for each challenge along the away.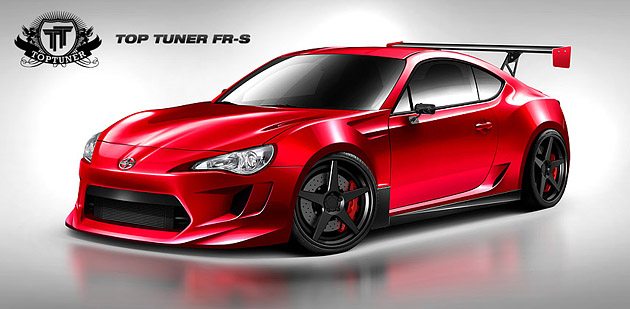 ETC Enterprises' Top Tuner Program was formed in 2006, representing the most decorated show car builders in Canada, and the top aftermarket companies in the "Tuner" industry. Since it's inception, the Top Tuner Team has released 6 customized game changing, brand new platform vehicle's in five years. The Top Tuner team, has received high acclaim from the media, fans, peers, and has gone on to receiving various highly prestigious design awards (www.etc-enterprises.ca). In 2012, The Top Tuner team created a new partnership with Can-Jam Motorsports, recognized for their efforts as being Canada's best in racing development. With over 25 Canadian National Rally and Road Racing championships, and hundreds of race wins, Can-Jam Motorsports' track record speaks for itself. The marriage between ETC Enterprises and Can-Jam Motorsports will bring new heights to the Top Tuner Program. The all new Top Tuner Team is now on steroids bringing the monster of racing development, and meshing it with beautiful design, colliding two worlds together for what is, the most anticipated motorsports program put together by an OE car manufacturer in Canadian history.
Design sponsors APR Performance, IFORGED, 20 Hz Audio, Xtreme Motorsports, and ETC's very own Matthew Law will help to keep the Top Tuner team a head of the game by innovating never before seen products that will debut on the Top Tuner Scion FR-S.
Top Tuner traditionally has kept people in the dark of what the final product would look like until it's debut. This time around Team Top Tuner wants to be as transparent as possible. In conjunction with Scion Canada's (www.tunerchallenge.ca) website, fans will have an opportunity to visit Top Tuner's (www.toptunerfrs.com) website and be apart of the journey. With live streaming of day to day operations, and race day events, fans will have an opportunity to be immersed into the lifestyle. Fans will also have the opportunity to chime in and be apart of the styling and mechanical decision process throughout the 12 distinct challenges. The story will take us through the hardships of managing a unique team to victory; the challenge of building one car for 10 different motorsports challenges, from Ice Rally, to Drifting, to Drag, to Gymkhana. The ultimate goal....Win every challenge and win the car!
Team Top Tuner
Tajai Das - Serge Leger - Edmund Manasan - Frankie Valenti - Matthew Law - Duane Ho - Kevin Ho - Stewart Ho - Crazy Leo - Sasha Anis - Marco Passante
Press Contacts:
Edmund Manasan: 416-505-6013, [email protected]
Tajai Das: 416-427-8327, [email protected]
Trusted by Top Tuner - Build It.. Drive It.. Love It..