PRESS RELEASE
February 17, 2011 - Canadian International Auto Show, Toronto, Canada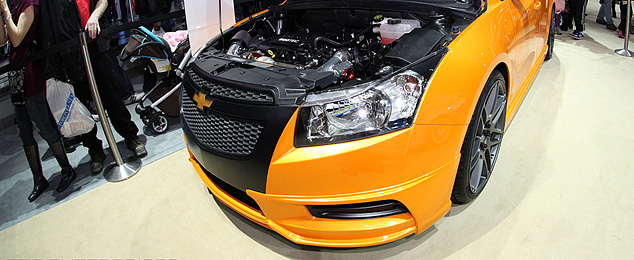 ETC Enterprises - Elite Tuners of Canada debuts two new projects for 2011, the Top Tuner Chevrolet Corvette and Cruze. The two Top Tuner cars will make its first appearance at the 2011 Canadian International Auto Show in Toronto, Canada.
The Top Tuner Chevrolet Corvette is the team's 5th project car with General Motors Canada. Team ETC took a stock Corvette C6 and in 4 short months, it was completely transformed into a hyper performance machine.
Along with the Corvette, the team's 5.5 build was the Top Tuner Chevrolet Cruze. The Cruze showcases powerful modifications that can be done to a compact sedan.
ETC turned the Cruze sedan into a sporty and aggressive tuner. The car runs 250 WHP and 150 Torque, turbocharged with a GTK 350 Custom Turbo System from Turbonetics. The Cruze is fitted with a set of custom body kits and carbon fiber hood and trunk by Viniati. To finish off the dynamic body work, Serge Leger of Xtreme Motorsports gave the car a custom Candy Flip Orange paint with two tone matte grey stripe.
Underneath the car, the Cruze runs on lowered suspensions, custom wheels provided by Forgestar (F14 20 X 8), wrapped in Pirelli 245/30ZR20 (90Y) XL Nero's, and custom exhaust system. Inside the car, the entire interior was redone with custom accents, Autometer Gauges, and orange upholstery to match the exterior. The interior is finished with a 3000 Watt eletronic sound system by Pioneer.
Specs
250 WHP, 150 Torque
Custom Body lip kit (Viniati)
Carbon fiber hood and trunk (Viniati)
Custom Candy Flip Orange and two tone matte grey stripe paint job
Lowered suspension
Custom Wheels (Forgestar F14 20 X 8)
Pirelli Tires 245/30ZR20 (90Y)XL NERO
Custom Sound system (3000 WATT Pioneer Electronics Sound System)
Custom Interior accents and upholstery with Autometer Gauges
Custom Exhaust system
Turbonetics - GTK 350 Custom Turbo System
Photos from the 2011 Canadian International Auto Show
For more photos see the gallery