PRESS RELEASE
October 17, 2008 - Sport Compact Performance, Montreal, Quebec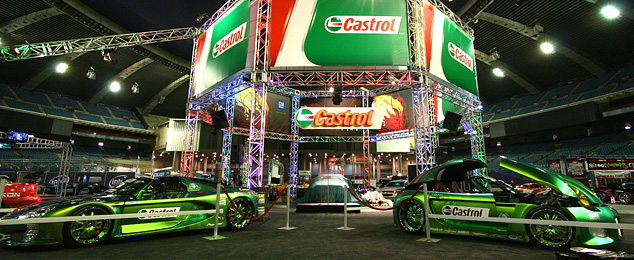 ETC Enterprises - Elite Tuners of Canada introduces their third project car - The 2008 Top Tuner Cadillac CTS provided by General Motors Canada.
Team ETC took an ordinary Cadillac CTS and turned it into their own version of the CTS-"V". Designed low and aggressive in V.I.P. style, the Top Tuner CTS runs on 1450 WHP and 1100 LB-FT. The motor is the newer LSX cast iron block with ported and polished LS7 heads. Also in the engine are K1 Technologies steel crank & rods, JE Pistons 8:5:1 pistons, GM performance gaskets, and ARP fasteners. Turbonetics supplied the build with TWO T-66 turbos, Gozilla blow-off valves, and wastegates - this makes the CTS a twin-turbo beast!
Other parts in the engine modification include Vibrant custom SS exhaust & piping, Wilson LS7 manifold, Wilson 90mm throttle body, Bosch in-line pumps, NOS Systems 250-shot direct port, and engine management is done by Electromotive TEC3. Lastly, the driveline modifications include Zoom Stage V clutch & flywheel, CTS-V LSD & axles.
STRUT created a custom grille piece for the CTS - signed by the crafter. The CTS also uses STRUT rims, the new Icon MS. Front rims measure in at 22x9.5" and 22x11" at the rear, with almost 6" of deep dish lip. Tires are Pirelli PZero Neros 265/30R22 in the front, and 315/25R22 in the rear. Stopping power is by ETC's brake supplier, Baer brakes. Baer supplied 6-pot calipers with Baer Sport Tuning pads clamping on 15" 2 piece rotors. As for the adjustable suspension - an Easy Street air ride system was installed. Both the headlamps and taillights have been relocated with newly fitted Ignited Performance HIDs in the headlamps.
The entire interior was stripped and Dyna-matted for sound performance. Aged and stressed leather was imported from Italy and everything was completely rewrapped. Pioneer worked closely with Team ETC to achieve high-end sound performance. In the rear was a custom console that houses two Pioneer Premier 12" subwoofers, two additional 7" LCD monitors and a Sony PS3 system. An integrated Pioneer AVIC-N2 headunit was installed with optional Bluetooth, XM radio, and rear back-up camera. Also onboard is the GNet vehicle PC - allowing for computer work, access to files and internet. Pioneer accessories were also installed in the dash.
In the trunk are two more Pioneer Premier 12" subs, 4 separate Pioneer Premier 1200.1 amps, three separate Pioneer Premier 300.2 amps, and 6.5" Pioneer components. Also located in the trunk is the NOS system install.
All the exterior body work are custom fabrication by Chris and Lee Nankoo from Phat Rides. The unique Vicious Cherry Red paint was done by Serge Leger of Xtreme Motorsports, in Shediac, NB.
Top Tuner Cadillac CTS
For more photos see the gallery